EXHIBITION OVERVIEW
Världen är liten. The world is small. The steamship, the train, and later the car and airplane made movement between the United States, Sweden, and Paris more accessible, and many Swedish and Swedish American artists made their way to the City of Light, an artistic center of the late nineteenth and early twentieth centuries. For all who visited or called it home, Paris was a space for inspiration and a site of rapid artistic development, spurred by shifting urban, social, cultural, intellectual, and political environments. This exhibition considers Swedish and Swedish American artists in Augustana Teaching Museum of Art's collections whose artistic practice brought them into dialogue with (and in some cases, against) Parisian Modernism between the years of 1850-1950.

The exhibit is in partnership with the Figge Art Museum's exhibition "French Moderns: Monet to Matisse, 1850-1950" and is supported, in part, by a grant from the Swedish Council of America. It was co-curated by Claire Kovacs (director, ATMA) and Katherine Hellberg (preparator, ATMA).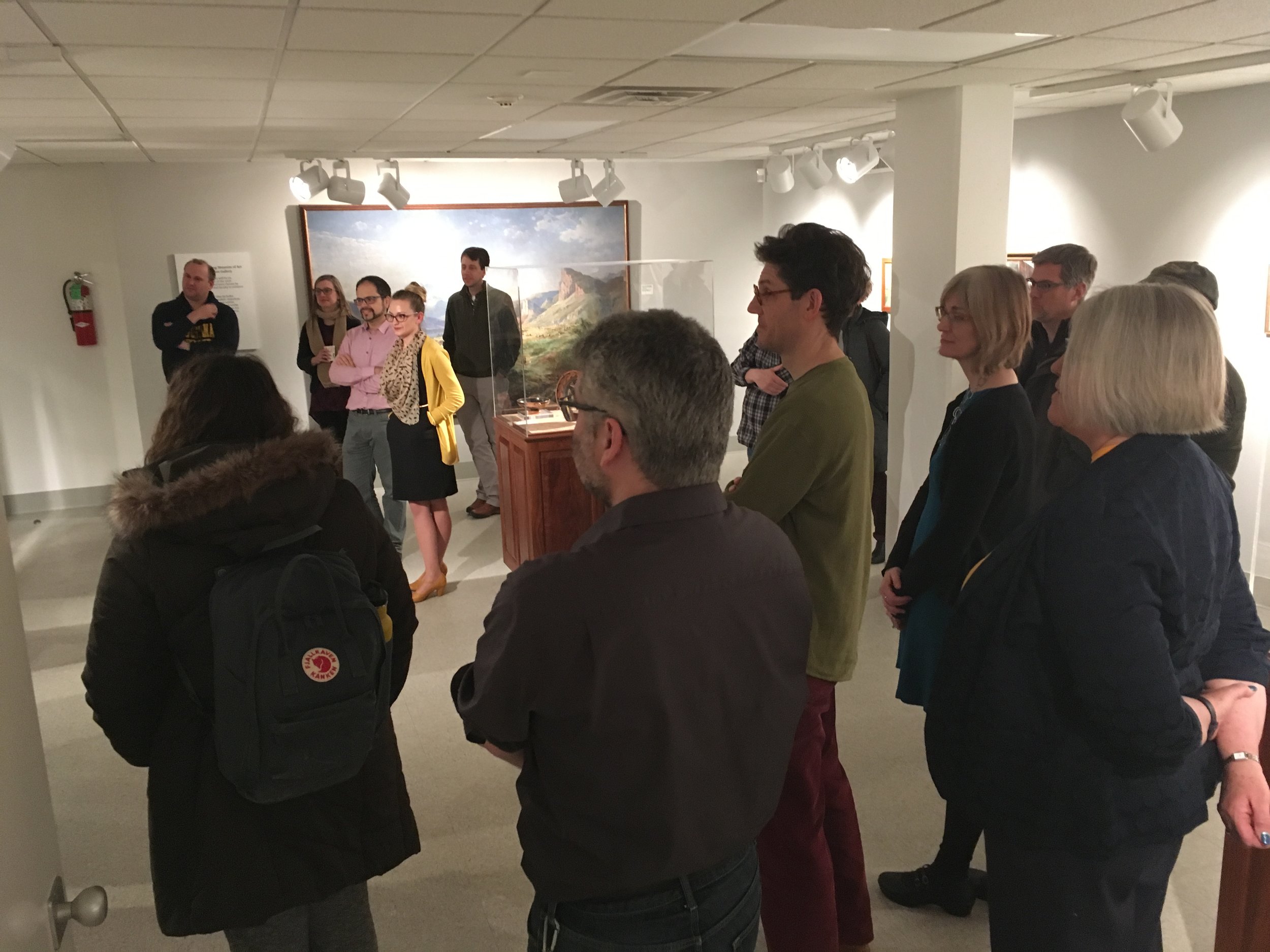 PROGRAMMING: Charles Haag's Art + Archive at Augustana
Dr. Kimberly La Palm (Augustana Scandinavian Studies program) and Lisa Huntsha (Swenson Swedish Immigration Research Center) led a tour of the exhibition that focused on the vast collection artworks + archive of Charles Haag at Augustana College.
ARTIST PROJECT: Interlay by Marcos Valella
Contemporary artist Marcos Valella's project Interlay interrupts the viewer's experience of Världen är liten/The World is Small by infusing some of the counters - the area of a letter that is entirely enclosed by a letter form - with color. A filter of colored counters is interlaid over all of the exhibition text's labels, wall didactics, interpretive text, posters, and all related digital materials. Interlay is the most recent iteration of a series of Valella's investigations around the idea of merely occupying a space of painting.
In addition to the project, ATMA hosted Valella as a visiting artist, during which he spoke about his work to classes in honors first year seminar, advanced painting, and drawing for non-majors. In addition, Valella and Kovacs participated in a public dialogue about Interlay, situating it within Valella's oeuvre and larger historical context.